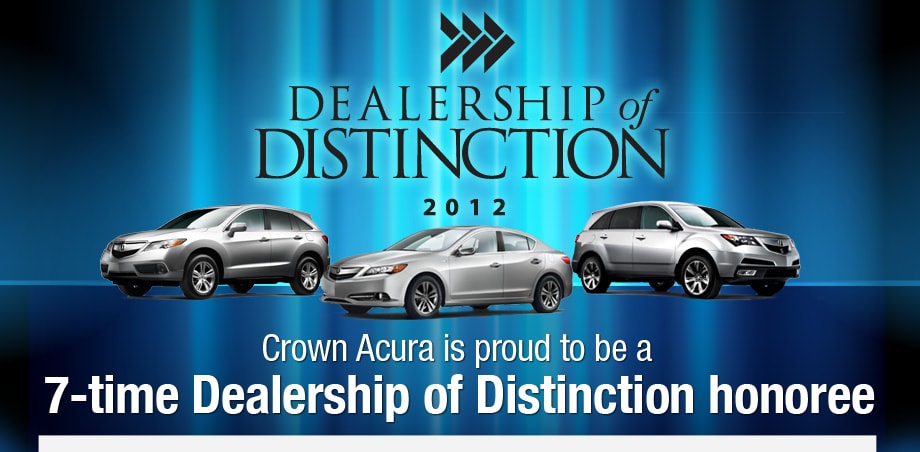 Crown Acura has been awarded the Precision Team Dealership of Distinction honor a total of 7 times, including the last 5 years running.



The Dealership of Distinction status is the most prestigious and coveted honor that Acura grants its dealerships. It was established in 1987 to recognize Acura dealerships that have a passion for excellence and exemplify the brand's core values. Today the objectives of the program have been adjusted to align with Acura's goals of being an industry leader in the luxury market and setting the standard for client satisfaction. Award-winning dealerships are those that have not only met, but exceeded, clients' expectations.

"At Acura, we are proud of our Dealerships of Distinction. They exemplify the Acura brand by bringing it to life for our clients," says Jeff Conrad, vice president and general manager of the Acura division of American Honda, Inc. "To earn the award requires an unwavering commitment to excellence by all members of the team. They have met the challenges set before them and deserve to be recognized for their achievement."

More than 267 Acura dealerships participated in the 2012 Precision Team program and only 96 earned the 2012 Dealership of Distinction status.

Crown Acura - a Dealership of Distinction
Come see what makes Crown Acura a multi-time Dealership of Distinction by visiting us in Clearwater. We offer our customers a variety of world-class automotive services at one convenient location. Crown Acura carries the full line of technologically advanced Acura performance vehicles, including the TL luxury sedan, the TSX sport sedan or wagon, the ILX performance sedan with hybrid option, the RDX crossover, the MDX luxury sport-utility vehicle, and the all-new 2014 RLX premium luxury sedan.